LE STER Estate Agents, based in south Finistère Brittany, offers a range of
property sales, purchases, long-lets, all types of property management, villas, houses and flats, building plots available in Douarnenez
Bénodet Fouesnant Trégunc-Concarneau
Audierne
Located in a quiet estuary, the harbour of Audierne is a pleasant architectural unity. Markets, shops, and restaurants live up this harbour and give to the town its authenticity. The livelinesss of Audierne extends from the quays, the fishing port, and the fish tanks to the wonderfull south-facing beach. On the other side towards the Goyen River, the wood landing stage along the quay can be used to get to the aquarium to visit absolutely. Go around the old part of the town and visit the art galleries and the exhibitions.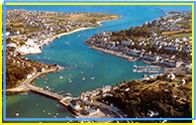 Our restaurants welcome you :

Their tables are famous for their seafood, including oysters and shellfish, but you can also discover the thousands of flavours from our area with our wheat and buckwheat crepes.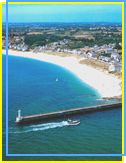 Places of interest to visit :
The fish-tanks, "La jetée du raoulig", "la Passerelle", the church "Saint Rumon", the Aquarium.
Walks along the Goyen River from Audierne in the direction of Pont Croix.
Walks in the old part of the town.


Our estate agencies in Brittany at your services:

Design © 2009 e-declic