LE STER Estate Agents, based in south Finistère Brittany, offers a range of
property sales, purchases, long-lets, all types of property management, villas, houses and flats, building plots available in Douarnenez
Bénodet Fouesnant Trégunc-Concarneau
Concarneau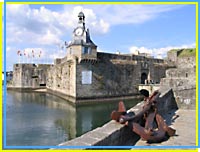 Concarneau is the strength of the sea. The 3rd fresh fishing port in France and the 1st tuna port in Europe inspires the town in its entirety with dynamism. Concarneau uses its historics and environmentals assets to be an attractive seaside resort (3rd town in Finistere) ; it's a pleasure to live in as to visit it.

This town of art and history offers a striking contrast between the "Ville close" - fortified town since the 13th century - and the various and dynamics activities of the fishing port, the shipyards and the sailing harbour.
Our restaurants welcome you :

Their tables are famous for their seafood, including oysters and shellfish, but you can also discover the thousands of flavours from our area with our wheat and buckwheat crepes.

Our estate agencies in Brittany at your services:

Design © 2009 e-declic